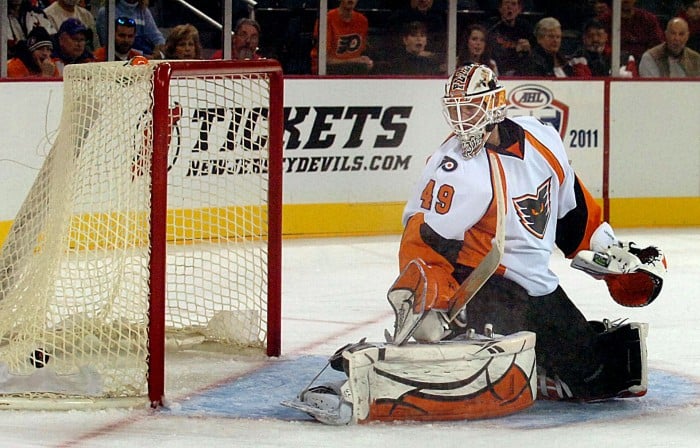 With summer coming to a close and the possibility of an NHL lockout looming, the gears are starting to turn again on AHL hockey talk in St. John's. There's still plenty of uncertainty regarding rosters and such, but at least now we have one thing set in stone: the schedule.
The AHL released it's full schedule last week, and, being a team on the island of Newfoundland, the IceCaps' will often be one of the most interesting. Weekend home dates and long road swings littered the schedule last season, and this new schedule will see much of the same.
I've flicked through the schedule and pinpointed a few match-ups of particular interest to myself as a fan, as well as some low points or games we may shrug at. Feel free to leave your own thoughts in the comments.
There isn't much difference from last year's campaign, but there are a few tweaks.
The best
The IceCaps open the home schedule against the Adirondack Phantoms, a team we haven't even watched before here at Mile One. It will be the first time they meet.
There's a nice four game home set against the Monarchs (divisional opponent) and the Marlies over the first two weekends in January, no weeknight games in between.
Schedulers didn't give St. John's a full month without hockey like they did last season. I almost forgot we had a team by the end of February, 2012.
The end of the home schedule is pretty incredible with four of six games against Toronto and WBS, two teams the crowd will really go crazy over.
The rest
The IceCaps have two sets against Portland that are mid-week; one at the beginning of the schedule (October) and one at the end (April). This caught my eye mainly because I distinctly remember watching Pirates-IceCaps in a weekday set last year and it was a dead atmosphere at Mile One. But hey, we can't have ALL weekends, as nice as that would be.
Hamilton are in town for a weekday pair in November. Tough luck for Habs fans from elsewhere in the province.
Talk about Christmas Holidays: No IceCaps in town from December 12 (against Hershey) until returning January 4 (against Manchester). It's a long break from hockey at Mile One, but at least it isn't in the second half of the season.
The IceCaps' schedule is quite different from other teams', but what else would we expect? If you look through the whole thing, it's full of weird gaps at home, and they cruise through games on the road. It comes with being out of the way.
Scheduling didn't seem to hurt the Caps much last year, but there were a few who suggested Mile One was becoming an easy place to play for visiting teams. We'll see how it shakes out this year and perhaps look into it a little further with a bigger sample size.
Email ryanfancey@gmail.com and follow on twitter @SJ_IceCaps and @rfan_3